Contact us if you need any more information or you have any questions. Our number is 01209 842256 (from UK) or +44 1209 842256 if you are calling internationally. Email us at info@aviarycourthotel.co.uk
Please use the Availability Enquiry Form to check room availability, but do not hesitate to telephone us if you require an immediate reply; the telephone is always attended.
Accommodation Tariff - Spring/Summer 2021 - 17th May 2021 to 31st October 2021. (2022 prices to be confirmed by January 2022) Provisional bookings being taken now & will be confirmed in January when tariff is set.
Per room, per week
Room type
Bed, breakfast & evening meal
Standard double

(Shower/bath ensuite)

£1032.00


£516 per person



Superior double or twin


(Shower/bath ensuite)





£1140.00


£570 per person



Large double

(Shower only ensuite)

£1140.00
In general our weekly bookings run from Sunday to Sunday. Our guests have found Sunday arrival and departure avoids the heavy Saturday traffic and travel stress which Cornwall's perennial popularity with visitors can bring, and they start and end their stay in a much more relaxed frame of mind.
All rooms have Flat Screen television, Freeview, direct dial telephone, free Wi-fi access,
clock radio, hair dryer and facilities for making tea and coffee. Fresh fruit is provided daily. By law, no smoking is permitted in the hotel.
The tariff, which includes VAT at the current rate, may be changed without notice.
Bed & Breakfast tariffs - includes full English breakfast.
Evening Meal, Bed & Breakfast tariffs - include four course Table d'Hôte dinner (choice of dishes ) and full English breakfast.
Non-resident Table d'Hôte dinner: £30.00
A non-refundable deposit (based on the length of stay) will be required at time of booking.
We do not take children under 15 years. Over 15's are welcome, but please note only one of our rooms is suitable to take three persons - prices are available on application. Regretfully, we are unable to accommodate pets.
We prefer deposits and balances by BACS but do take Visa & Mastercard debit cards. If you wish to pay your deposit via card, please telephone us in order to maintain security of your card details. If by BACS, please phone & we will supply our bank details.
BALANCE OF ACCOUNT CAN BE PAID BY CASH. CHEQUES INCUR £3.50 CHARGE.
Please check our Booking Terms and Conditions for further information.
It's Martini time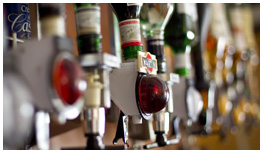 Enjoy a relaxing drink in our well-stocked bar at the end of the day