Recent comments from our visitor's book
Below are just a selection of our guest's comments:


Thank you so much for another lovely holiday, for the super meals and consideration to my diet!! Can't wait to come back.
MR & MRS R.

Our thanks for a lovely holiday. Excellent on all counts including the rapport with the other guests
MR & MRS S

Thanks for the fabulous welcome. Couldn't ask for anything more. Hope to see you soon now we have found a gem of a hotel (top class)
L & D , Sheffield.

Thankyou to Paul and Bernice for a wonderful stay. You deserve accolades for your welcome and friendliness
R & H Sth Yorkshire

Had a wonderful stay amongst the most friendliest staff. Thank you Bernice & Paul for all your efforts. We will recommend you most highly to all our friends. Marvellous situation.
Barbara & Gerald, York

We could not fault your hotel for comfort, excellent meals and friendly service. We enjoyed our stay despite rather poor weather, Many thanks for a lovely week.
H & E Bradford on Avon.

This place ticks all the boxes TWICE.
A .S , Merseyside

We really enjoyed our stay with you – the hotel building and gardens are lovely, as was the food, but it is the personality of the hosts that really makes the difference. We are looking forward so much to seeing you again next year
R. D.

We had a wonderful stay at Aviary Court and the food you prepared did so much to make our holiday special. It was truly magnificent.
P & P .

5 star food, service and accommodation. Thank you both. Christine & Dave , Wiltshire

We just wanted to say a big thank you both for the lovely holiday you gave us all. I know we paid, but you made us feel so special, it was grand.
G & A , Scarborough.
Wonderful holiday, excellent food. Friendly service. Coming next year.
Gillian and Edward
Another lovely Christmas with lovely people - our 5th! Need we say more! Brian and Jo , Sth Devon
Great break. Thanks to you for a wonderful stay. Will recommend. Made to feel very welcome. Love coming here.Carol and Chris.
Wonderful Holiday helped along by excellent cuisine & comfortable rooms, thank you.
Harry and Carroll
Came as strangers left as friends. Bread and Butter Pudding to die for.
J. S.
Another lovely Christmas - Thankyou - Back next year . Anne and David
Many thanks for a really lovely two weeks. Lovely food, most comfortable room and cheerful, friendly staff. Hopefully see you again and will recommend you to friends. D&D Smethwick
Clean rooms - good showers- comfortable. Paul and Bernice excellent hosts. Excellent food and very adaptable to your needs - brilliant stay . We'll be back. H & N. Cambridge
Thank you so much . Visit no. 32. As good as the previous . All lovely!!!! M&D Bedford.
FROM OUR 2012 QUALITY INSPECTION BY QUALITY IN TOURISM

"This delightful, family owned Hotel sits quietly nestled in a peaceful yet convenient location in Cornwall. The personal service of the owners and staff combined with genuine hospitality ensures that guests old and new are assured a very warm welcome."
FROM OUR 2013 QUALITY INSPECTION BY QUALITY IN TOURISM
"An immaculately presented property both inside and out, Aviary Court is a little piece of Cornish heaven conveniently located for exploring the nearby coast and county beyond.
For a three star establishment and the bonus of having a small number of rooms, levels of service and hospitality forthcoming from the owners and staff at Aviary Court far exceed the levels expected at this rating level. Paul, Bernice and the team are to be congratulated on their continued positive and enthusiastic guest approach (not bad after 28 years of customer service)"
FROM OUR 2014 QUALITY INSPECTION BY QUALITY IN TOURISM
"Further investment made including new solar panels, water tanks, thermostatic taps, double glazing and new toiletry range. The fully refurbished garden lounge is certainly a highlight. Outstanding levels of hospitality once again shown by Paul and Bernice. In finer weather, guests enjoy the very well tended gardens. High quality and very comfortable beds. Owners work hard to ensure high standards and are very consistent level of maintenance is evident throughout. A very high standard of cleanliness and housekeeping noted."
FROM OUR 2015 QUALITY INSPECTION BY QUALITY IN TOURISM
"Guests receive a very warm welcome at Aviary Court with owners Paul and Bernice being very hospitable. A steady level of repeat business is enjoyed by the hotel and many glowing comments from guests noted. The refurbishment of Room 1 has certainly been a success with all guests being very complimentary and the room presenting very well overall. Dinner offering remains a feature of the hotel with all dishes homemade and very tasty. Excellent cleaning standards once again noted. New carpeting has been fitted throughout the bar, lounge, stairs and landing. Owners continue to make upgrades and improvements on a rolling basis."
FROM OUR 2016 QUALITY INSPECTION BY QUALITY IN TOURISM
"Aviary Court retains the high scoring Three Star Small Hotel rating on this visit. All main areas of the business meet and exceed percentages at this level. Paul and Bernice work very hard to maintain high standards in all areas of the hotel, offering a personal and friendly service standard. The hotel enjoys an outstanding amount of repeat business with many guests visiting a number of times each year. Congratulations must be given for winning a Visit England Rose Award 2016 which is thoroughly deserved. The food offering continues to be a highlight with the daily changing menu offering a range of options often tailored to returning guests favorite dishes."
2017 - NO INSPECTION WAS MADE
2018 - RESIGNED FROM INSPECTION SCHEME
We wish to assure guests that our previous high standards will continue to be met despite our resignation from the assessment scheme. We will continue to make upgrades and improvements on a rolling basis.
Anyone for tennis?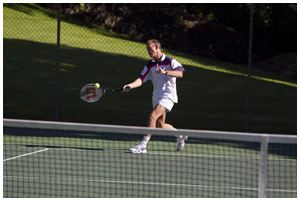 Enjoy a game on our renovated court.